Colonel White

High School

-Dayton OH


Class Of 1960
ANNOUNCEMENTS
This is the updated 1961 REUNION information from Marcia Deddens:
Yes you are reading that right. We want you all to know this will be the last time we can gather in person to celebrate old and dear friendships and the "glory days" when a confident group of teens showed Dayton what a new school could do to quickly establish traditions and excel in academics, the arts, music and sports. We have invited the classes of 59 and 60 to join us either or both evenings. We surely all made some life long friends among us.
The Marriott has a special rate for overnight reservations on the nights you choose between August 25 - 30 of $109 per night. Call Marriott at 1-800- Marriott and use Block Code CWR for the Courtyrad University of Dayton Colonel White HS Reunion. This 800 number is open 24/7 and the special rate is available through August 6th.
Send reservations with your check for the evenings of your choice to Dick Prigozen, 420 Shadywood Drive, Dayton, OH 45415. Dick's email is dickp@woh.rr.com. The registration information and reservation form remains on the website Home Page. Let's enjoy this last reunion together. These fun old folks are looking forward to seeing you,
***************************************************************************************************************************
Colonel White High School class of 1961 is having a REUNION and other classes are invited to their event. Their reunion is on Friday night. Here is their info:
Saturday, August 27, 2022 6:00pm - 11:00pm
Presidential Banquet Center Kettering
4572 Presidential Way Dayton 45429 (937) 439-0610
Buffet Dinner with three entrees, plenty of vegetable and dessert choices. Coffee, tea, iced tea and water will be provided. A cash bar will be provided for alcoholic beverages and soft drinks. Business casual attire.
COST: $55 per person
Dancing, music, photo ops under CW Arbor, and old friends together.
SATURDAY NIGHT WILL BE A JOINT REUNION WITH CWHS CLASS OF 1962 AND MEMBERS OF CWHS CLASSES OF 1959, 1960 & 1963.
Please visit www.cwhs61.com for registration info. This information is being provided for your consideration.
Thanks.
CARE/SHARE LINE
Do you have something to share? Let us know.
Welcome to YOUR web site!
If this is your first time to the site, we are glad you
decided to join the 120+ of us who have been
getting reacquainted. We have enjoyed
reading the profiles of our classmates and what
they have been doing for the past few (over 55)
years. If you are a seasoned member of the site,
welcome back.
The "55th" Reunion Photo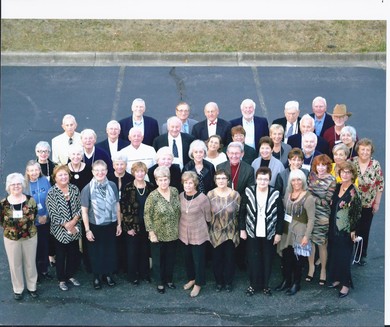 C
Our "50th Reunion" Photo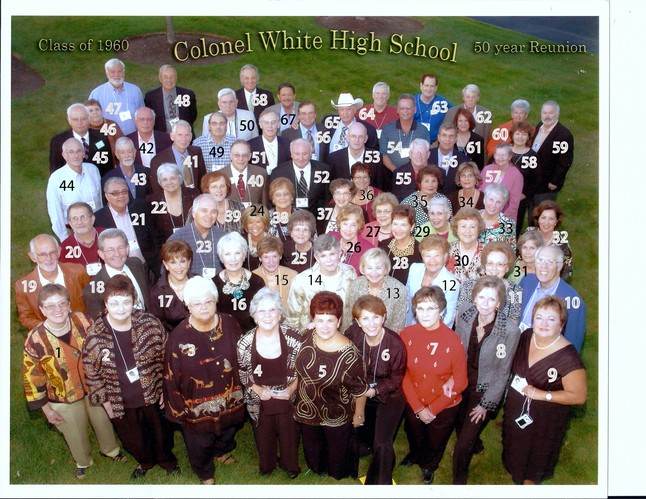 1. Barb Mould Young; 2. Jane Jackson Hicks; 3. Regenia Myers England
4. Sue Lovely; 5. Wynne Wessel Williams; 6. Sue Vangrow Simon
7. Polly Lively Menser; 8. Sue Bashore Gatling; 9. Melinda Holthouse Lurz
10. Jerry Schierloh; 11. Linda Herbig Schierloh; 12. Joan Galloway Riffe
13. Barb Jenkins Teague; 14. Carolyn Patterson Gormont; 15. Marilyn Rismiller Ekberg
16. Sally Morgan Jackson; 17. Marianne Bernie Ellman; 18. Ray Blackstone
19. Mark Tepping; 20. Dennis Stephens; 21. Allen Partlow
22. Judi Ross; 23. Jack Lehman; 24. Judy Katz Vigder
25. Carol Lehman Schmidt; 26 Connie Frey Schaefer; 27. Judy Link Keating
28. Kaaren Bodiker Dunlap; 29. Nancy Hambleton Hofele; 30. Mary Lou Leach Jenkins
31. Kay Hunt Deaton; 32. Marilyn Shute Lorenz; 33. Photini Stamas Fote
34. Sandie Elfenbein Stanfield; 35. Marcia Bernstein Alpert; 36. Sally Rozsa Donese
37. Barb Leland Young; 38. Donna Fackler Pett; 39. Sue Williams Kuehn
40. Gary Hendricks; 41. Dennis Carey; 42. Phil Schuman
43. Lee Murray; 44. John Myers; 45. Jerry Kuhr
46. Nancy Banta Jones; 47. Randy Jones; 48. Byron Layman
49. Jim Paxton; 50. Jim Sims; 51. Bill Keane
52. Jerry Nelson; 53. Jim Hackenberger; 54. Terry Graham
55. Al Davis; 56. John Schaefer; 57. Wanda Boggs
58. Jan Clough Combs; 59. Dave Luke; 60, Dianne Shook Trottier
61. Pat Wilder Bond; 62. Jerry Krauss; 63. Dave Harbach
64. Bill Harris; 65. John Jett; 66. Oran Fisher
67. Jim Coltan; 68. Nick Zimmers