Lunch Bunch (Dec 2013)
Attendance. The Colonel White class of 1960 lunch bunch met at Amber Rose Restaurant on Friday, December 28. Classmates and guests attending were: Nancy Banta Jones and Randy Jones; Oran Fisher; Audrey Hahn Wion and husband Ken; Sue Lovely, daughter Debbie, Sue's Great-grandson Devon, and Devon's friend Zach; Judi Ross; and Sally Rozsa Donese and Granddaughter Elly.
Standing: Judi Ross, Randy Jones, Oran Fisher, Nancy Banta Jones, Audrey Hahn Wion, Ken Wion, Sally Rosza Denese, Debbie (Sue's Daughter)
Sitting: Devon Brown (Sue's Great-Grandson), Zach (Devon's Friend), Elly, (Sally's Grandaughter), Sue Lovely
Our class cares! Everyone brought stuffed animals to donate to Care House. Natalie Rosenthal Katz and Dianne Shook Trottier sent animals with Sue. Thanks to Sally Rosza Donese, we traveled to Care House and presented our donation. We saw where the animals are displayed. We heard about how the children select their animals as companions. It was a great experience.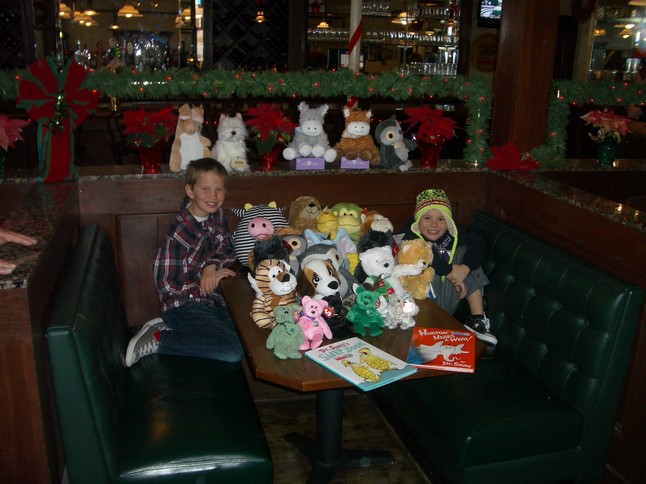 Special thoughts. Dianne Shook Trotier is recuperating and doing well after her kidney was removed December 27th. Jerry Nelson is home after spending time in the hospital just before Christmas. If you know of someone (including yourself) who could use some special thoughts, please let us know. Please send us your "brags" as well.