Lunch Bunch (May)
May 31, 2013 - A red-letter day for the class of 1960. Stan Blum joined us and plans to join us whenever he is not out of town on the last Friday of the month. If he was your teacher, you would recognize him. His looks haven't changed that much. Thank you, Mr. Blum, for joining us and sharing scratch pads with us.
Besides Mr. Blum, the gathering included: Audrey Hahn Wion and husband, Ken; Nancy Hambleton Hofele and friend, Joe; Sue Lovely and daughter, Debbie; Judi Ross; Sally Rozsa Donese; Dianne Shook Trottier, her granddaughter, Ashley and Ashley's friend, Emma; Van Cleve students Doug Benbow and Gail James Pruitt and Gail's daughter, Carol Johnson.
Nancy reminded us of Joan Galloway's racino trip on August 4. If you are interested in joining a trip to Scioto Downs in Columbus, call Joan Galloway Riffe at 937-469-3966, We are still looking at casino trips, too. If anyone knows of someone from the class of 1962 we could contact about the September 28th picnic, please let Judi Ross know.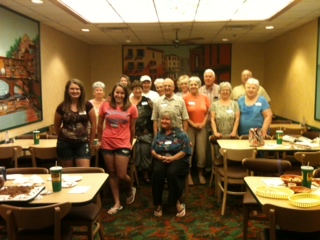 Front row - standing: Emma and Ashley, sitting: Debbie
Middle row - Dianne, Sally, Stan Blum, Judi, Sue, Audrey
Back row - Carol, Joe, Nancy, Gail, Doug, Ken