Lunch Bunch May 2018
Can you guess what kind of restaurant was lour choice?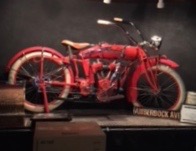 That's right, it was a biker bar and had great food. All of our classmates arrived on four wheels, though.
What a Great looking group! In the front we have Sue's daughter Debbie, Sally Rozsa Donese, Tina Stamas Fote, Audrey Hahn Wion, and Dianne Shook Trottier. Behind them you will find Sue Lovely, Dave Gruber, Tina's husband Alex, Audrey's husband Ken, Judi Ross, Marti Stoner Coblentz (peeking out,) and Jane Jackson Hicks.
Our currently designated sender of greetings, Tina Stamas Fote, asks that if anyone has "get well" or "thinking of you" cards that they will not use, please consider giving them to Tina for use with our classs.