Lunch Bunch Jun 2017
We had the usual group plus some who attend less frequently.
Dave Gruber, Dave's wife Becky, Tina's husband, Alex Fote. Dave's mother has been ill and and he and Becky have been caring for her. We were glad they could join us. It was great seeing them. We adore Alex. He is with us almost every month.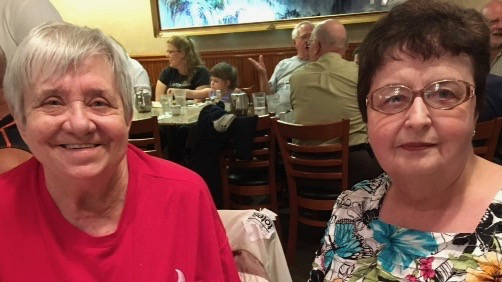 Judi Ross, Jane Jackson Hicks. It was Jane's birthday and we were honored she decided to spend some of her special day with us.
Sally Rozsa Donese, Audrey Hahn Wion, Audrey's husband Ken. All three regular attendees. Audrey had barely gotten out ot the hospital to attend.
Dianne Shook Trottier, Oran's wife Debbie, Oran Fisher. Dianne is a regular. Oran and Debbie haven't been for a while. Oran had some interesting artwork to share with us. It was great to see them.
Tina Stamas Fote, Gary Keithley (class of '59). Tina is a regular and except for this picture was our photographer for the day. Gary attends every once in a while. We are always glad to see him.
Joan Galloway Riffe, Kathy McCartan Stevens. We hadn't seen them since the 55th reunion. Kathy is a good friend to Joan and picked her up and brought her to the luncheon. We were happy to see them both.
Sue Lovely's daughter Debbie, Sally (Sally gets around). Debbie is a regular. We love Debbie.
Gary (Gary gets around, too), Sue Lovely. Sue is a regular and I think she and Gary were talking 60th reunion.