Lunch Bunch Dec. 2015
THANK YOU
Many thanks to those who contributed to the success of our December luncheon.
Tina Stamas Fote made the arrangements and handled reservations. It isn't easy when the Internet doesn't cooperate and the email provider collapses. It also isn't easy when the facility does't honor it's promise of a private room. She eventually got everything worked out and we had a wonderful time, excellent food, and interesting conversations.
Audrey Hahn Wion brought good-smelling gifts for the ladies.
Sue Lovely gathered donations for CARE House from classmates who could not attend the luncheon and will deliver all donations to CARE House.
Our classmates once again were generous in supporting CARE House. Items collected include:
GAMES: 4
PUZZLES: 18
JOURNALS: 1
BOOKS: 1
BEANIE BABIES: 26
STUFFED ANIMALS: 6
HI C FRUIT JUICES: 20 8 FL OZ BOXES
MOTTS APPLESAUCE (6 3.9 oz)
GOLDFISH
PLASTIC
CUPS (18 oz): 240
PLASTIC CUTLERY (forks/knives/spoons): 360
PAPER PLATES/
PAPER TOWELS
NAPKINS/
FOAM PLATES/
PLASTIC SPOONS
$20 CASH
$25 CHECK
$10 KROGER CARDS: 2 ($20 total)
$20 TARGET CARDS: 2 ($40 total)
THINKING OF...
Howard Bayne who is home and feeling much better. Email Howard at howardbayne@yahoo.com.

Nancy Hambleton Hofele who is home after heart surgery and rehab. Email Nancy at Nancyhofele@peoplepc.com
Natalie Rosenthal Katz who is spending a let of time at home, confined to a wheel chair. Email Nataliie at laser6612@aol.com.
Send some cheer and let us know if anyone else needs some special thoughts.
2016 LUNCHEONS
The rumor that Marion's on North Dixie is closing was a social media hoax. We will continue to meet there seven times a year. The calendar for 2016 follows.We normally meet the last Friday of the month. The calendar is also posted under the luncheons tab on the left of the home page.
January 29 - Marion's Piazza North Dixie - 12:30 pm
February 26 - Marion's Piazza North Dixie - 12:30 pm
March 25 - TBA
April 29 - Marion's Piazza North Dixie - 12:30 pm
May 27 - Marion's Piazza North Dixie - 12:30 pm
June 24 - TBA
July 29 - Marion's Piazza North Dixie - 12:30 pm
August 26 - Marion's Piazza North Dixie - 12:30 pm
September 30 - TBA
October 28 - Marion's Piazza North Dixie - 12:30 pm
November/December - TBA
NAVIGATING OUR WEBSITE
"I don;t know how to send messages on the Colonel White website"
First, you must be logged in as a member of the site. Some classmates have stricter security on their pages than others. On the left side of the home page at the top of the list, click on "Classmate Profiles." Find the classmate you want to message. Click on their name and you can either send a private message, or post a comment to their profile, depending on how they are set up. Good luck.
Any questions, let us know.
ATTENDANCE
Kaaren Bodiker Dunlap and husband Paul; Oren Fisher and wife Debbie; Audrey Hahn Wion and husband Ken; Jane Jackson Hicks; Sue Lovely and daughter Debbie; Judi Ross and brother Frank; Sally Rozsa Donese; Dianne Shook Trottier; Tina Stamas Fote and husband Alex; and teacher Stan Blum. We would love to see YOU in January.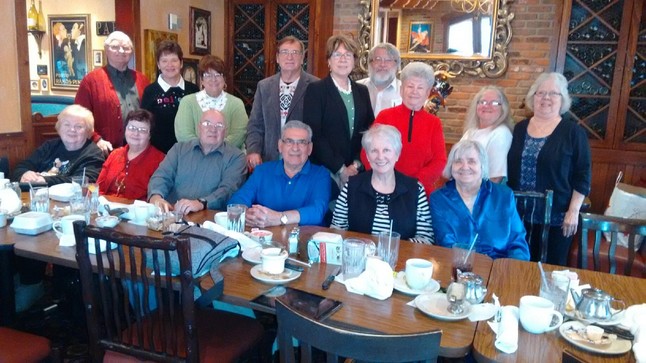 Back Row: Paul Dunlap, Kaaren Bodiker Dunlap, Sally Rozsa Donese, Oren Fisher, Debbie Fisher, Frank Ross, Dianne Shook Trottier, Sue's daughter Debbie, Sue Lovely
Frtont Row: Audrey Hahn Wion, Jane Jackson Hicks, Ken Wion, Alex Fote, Tina Stamas Fote, Judi Ross