Lunch Bunch Apr. 2018
We never know who is coming to lunch.
Linda Dicken Kraus was up from Texas. Linda (on the right) and her sister Karen joined us.
Sue Lovely, Dave Gruber, Sally Rozsa Donese
Oran and Debbie Fisher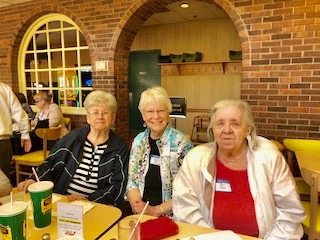 Dianne Shook Trottier, Marti Stoner Coblentz, Judi Ross
Teacher Stan Blum
Sue's daughter Debbie who was celebrating her birthday. She whistled along as we sang "Happy Birthday."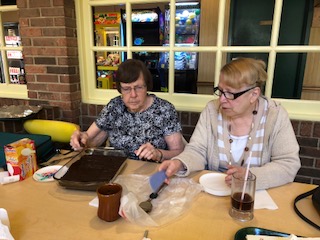 Sue's nieghbors Janet and Jerry. Their friend, Bob, disappeared at picture time.
It has been a difficult month with the loss of friends of our class. And our thoughts and prayers are with Pat VanDyne Snith as she lost her partner and one of our favorites, Howard Bayne. I really enjoyed reading what our classmates wrote on our website about classmate Howard. He was one of a kind.