Lunch Bunch Apr. 2017
Nancy Banta Jones and Randy jones, Audrey Hahn Wion with husband Ken, Sue Lovely with daughter Debbie, Marilyn Rismiller Ekberg, Judi Ross, Sally Rozsa Donese, Dianne Shook Trottier, Tina Stamas Fote with husband Alex, Barbara Theobald Theis with husband Toby, and our loyal teacher, Stan Blum, all shared in the camaraderie.
We really enjoy having Sue's daughter, Debbie, join us almost every month. She is a real sweetheart. The day after the luncheon was her birthday, so they brought a cake to share. It tasted so good.

This picture of Alex and Tina is the only picture that Tina did not take. Thanks for your efforts, Tina. Her big news of the day was that, even though it was Friday, she was eating meat. We assured her she would be forgiven, but then, what do we know?
Barb brought pictures from elementary school that we enjoyed so much, at least those of us who attended E. J. Brown. Thanks, Barb, we are glad to have reconnected with you.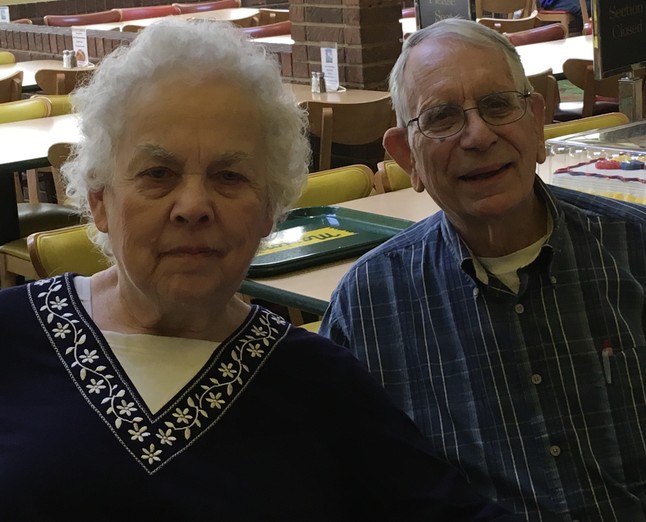 Even at our young age, there is usually someone who has already dealt with a medical situation we may encounter. Audrey and Ken were sharing experiences with Randy and Nancy.

This was the first luncheon Marilyn has attended. Marilyn, we hope you will come again and again. Sue and Dianne are with Marilyn. No shortage of conversation there.

Towards the end of the luncheon, Sally gave us a graphic lesson on bladder control. Sally challenged Judi on reporting the discussion. We will just leave it there.

Whenever he is in town, Stan Blum joins us. We think it is special that one of our Colonel White teachers has lunch with us.

I recently heard from Betsy Cunix Tels who sends regards to the Lunch group from across the pond. How very thoughtful.