Colonel White

High School

-Dayton OH


Class Of 1960
ANNOUNCEMENTS
CLASS REUNION (60 years + one)
June 4, 5 and 6, 2021
CARE/SHARE LINE
Do you have something to share? Let us know.
PAT WILDER BOND

Our thoughts and prayers for Pat and her family. Pat's husband, John, recently passed away.
Welcome to YOUR web site!
If this is your first time to the site, we are glad you
decided to join the 120+ of us who have been
getting reacquainted. We have enjoyed
reading the profiles of our classmates and what
they have been doing for the past few (over 55)
years. If you are a seasoned member of the site,
welcome back.
The "55th" Reunion Photo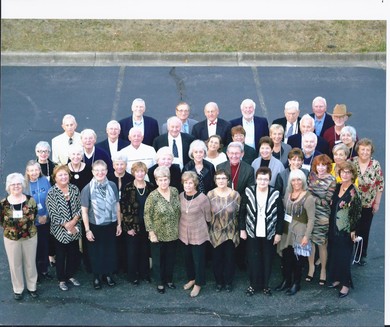 C
Our "50th Reunion" Photo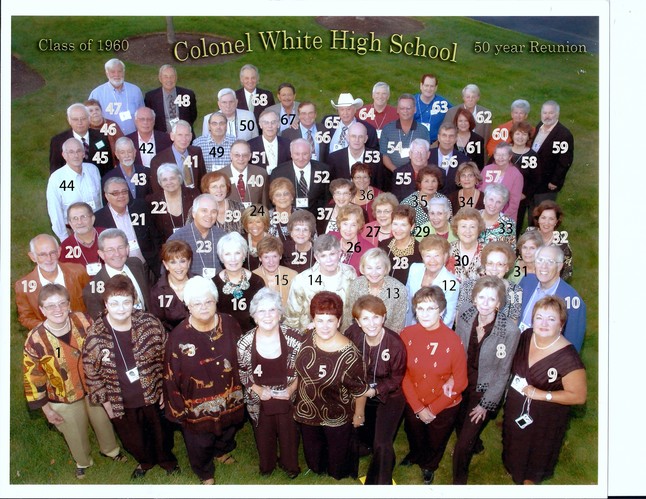 1. Barb Mould Young; 2. Jane Jackson Hicks; 3. Regenia Myers England
4. Sue Lovely; 5. Wynne Wessel Williams; 6. Sue Vangrow Simon
7. Polly Lively Menser; 8. Sue Bashore Gatling; 9. Melinda Holthouse Lurz
10. Jerry Schierloh; 11. Linda Herbig Schierloh; 12. Joan Galloway Riffe
13. Barb Jenkins Teague; 14. Carolyn Patterson Gormont; 15. Marilyn Rismiller Ekberg
16. Sally Morgan Jackson; 17. Marianne Bernie Ellman; 18. Ray Blackstone
19. Mark Tepping; 20. Dennis Stephens; 21. Allen Partlow
22. Judi Ross; 23. Jack Lehman; 24. Judy Katz Vigder
25. Carol Lehman Schmidt; 26 Connie Frey Schaefer; 27. Judy Link Keating
28. Kaaren Bodiker Dunlap; 29. Nancy Hambleton Hofele; 30. Mary Lou Leach Jenkins
31. Kay Hunt Deaton; 32. Marilyn Shute Lorenz; 33. Photini Stamas Fote
34. Sandie Elfenbein Stanfield; 35. Marcia Bernstein Alpert; 36. Sally Rozsa Donese
37. Barb Leland Young; 38. Donna Fackler Pett; 39. Sue Williams Kuehn
40. Gary Hendricks; 41. Dennis Carey; 42. Phil Schuman
43. Lee Murray; 44. John Myers; 45. Jerry Kuhr
46. Nancy Banta Jones; 47. Randy Jones; 48. Byron Layman
49. Jim Paxton; 50. Jim Sims; 51. Bill Keane
52. Jerry Nelson; 53. Jim Hackenberger; 54. Terry Graham
55. Al Davis; 56. John Schaefer; 57. Wanda Boggs
58. Jan Clough Combs; 59. Dave Luke; 60, Dianne Shook Trottier
61. Pat Wilder Bond; 62. Jerry Krauss; 63. Dave Harbach
64. Bill Harris; 65. John Jett; 66. Oran Fisher
67. Jim Coltan; 68. Nick Zimmers