Colonel White

High School

-Dayton OH


Class Of 1960
ANNOUNCEMENTS
OUR JANUARY LUNCHEON
Join your classmates at Marion's Piazza on North Dixie
on Friday, January 31st
We will meet at 12:30 pm.
CARE/SHARE LINE
Do you have something to share? Let us know.
Prayers for Gayle Theis Phillabaum. Her husband, Dan, passed away. He was also the brother-in-law of Barbara Theobald Theis.
Welcome to YOUR web site!
If this is your first time to the site, we are glad you
decided to join the 120+ of us who have been
getting reacquainted. We have enjoyed
reading the profiles of our classmates and what
they have been doing for the past few (over 55)
years. If you are a seasoned member of the site,
welcome back.
The "55th" Reunion Photo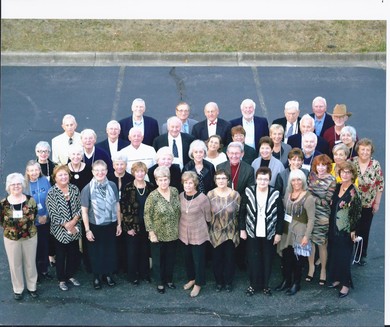 C
Our "50th Reunion" Photo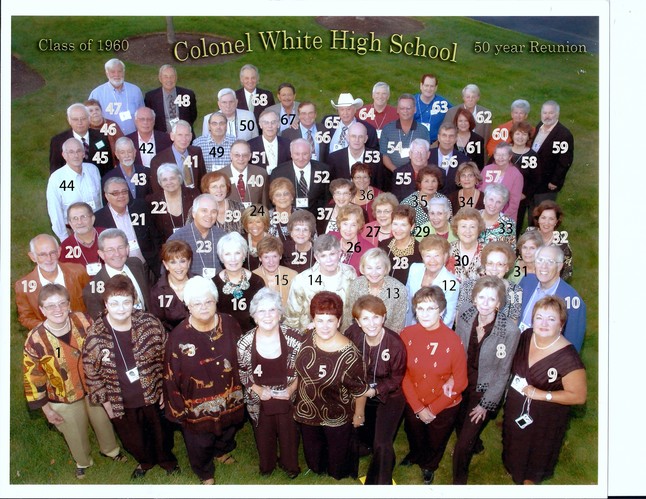 1. Barb Mould Young; 2. Jane Jackson Hicks; 3. Regenia Myers England
4. Sue Lovely; 5. Wynne Wessel Williams; 6. Sue Vangrow Simon
7. Polly Lively Menser; 8. Sue Bashore Gatling; 9. Melinda Holthouse Lurz
10. Jerry Schierloh; 11. Linda Herbig Schierloh; 12. Joan Galloway Riffe
13. Barb Jenkins Teague; 14. Carolyn Patterson Gormont; 15. Marilyn Rismiller Ekberg
16. Sally Morgan Jackson; 17. Marianne Bernie Ellman; 18. Ray Blackstone
19. Mark Tepping; 20. Dennis Stephens; 21. Allen Partlow
22. Judi Ross; 23. Jack Lehman; 24. Judy Katz Vigder
25. Carol Lehman Schmidt; 26 Connie Frey Schaefer; 27. Judy Link Keating
28. Kaaren Bodiker Dunlap; 29. Nancy Hambleton Hofele; 30. Mary Lou Leach Jenkins
31. Kay Hunt Deaton; 32. Marilyn Shute Lorenz; 33. Photini Stamas Fote
34. Sandie Elfenbein Stanfield; 35. Marcia Bernstein Alpert; 36. Sally Rozsa Donese
37. Barb Leland Young; 38. Donna Fackler Pett; 39. Sue Williams Kuehn
40. Gary Hendricks; 41. Dennis Carey; 42. Phil Schuman
43. Lee Murray; 44. John Myers; 45. Jerry Kuhr
46. Nancy Banta Jones; 47. Randy Jones; 48. Byron Layman
49. Jim Paxton; 50. Jim Sims; 51. Bill Keane
52. Jerry Nelson; 53. Jim Hackenberger; 54. Terry Graham
55. Al Davis; 56. John Schaefer; 57. Wanda Boggs
58. Jan Clough Combs; 59. Dave Luke; 60, Dianne Shook Trottier
61. Pat Wilder Bond; 62. Jerry Krauss; 63. Dave Harbach
64. Bill Harris; 65. John Jett; 66. Oran Fisher
67. Jim Coltan; 68. Nick Zimmers